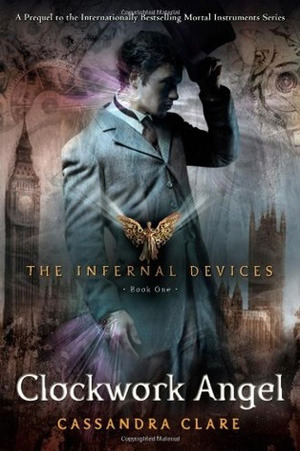 AUTHOR
-

Cassandra Clare
TYPE- Fiction
PAGES- 479 - Hardcover
PUBLISHED- August 31st 2010 by Simon & Schuster, Margaret K. McElderry
GENERE- YA, Fantasy
SOURCE- Borrowed from library
Premise
In a time when Shadowhunters are barely winning the fight against the forces of darkness, one battle will change the course of history forever. Welcome to the Infernal Devices Trilogy, a stunning and dangerous prequel to the Mortal instruments Series.
The year is 1878. Tessa Gray descends into London's dark supernatural underworld insert of her brother. She soon discovers that her only allies are the demon slaying shadow hunters - including Will and Jem, the mysterious boys she is attracted to. Soon they find themselves up against the Pandemonium club, a secret organization of vampires, demons, warlocks and humans.
My Thoughts
Where do I begin? This book is so full of suspense and drama it's mouth watering. I love that it's set in 19 century England, my favorite setting, a mysterious place indeed. Jem is one of my favorite characters in this book. Despite his handy cap he has a lot of passion and he doesn't let it stop him. Cassandra has a wonderful way of drawing the reader in. I wanted to live in the world she created. The romance was just right making me want to read the little tidbits over and over again. Tessa is a well developed character also. She not the overly swoney type. Although she is a bit indecisive. But for me it was understandable. Definitely a great series to read in the winter to set the mood.
5/5
About The Author
Cassandra Clare was born over seas and spent her early years traveling around the world with her family and several trunks of fantasy books. Cassandra worked for several years as an entertainment Journalist for The Hollywood Reporter before turning her attention to fiction. She is author to the book City of Bones, the first book in the Mortal Instruments trilogy and a New York Times bestseller. Cassandra lives with her fiancé and two cats in Massachusetts.
You can find her on line here:
www.cassandraclare.com
Thanks for reading my post. Tell me, what books are you reading? Leave your comments below!
Don't forget to share this post all over the internet! Also take some time to follow me at some (or all) :) of the sites below!
xooxo
Shanda G
PREVIOUS POST
Follow @ShandaGTVBooks
Facebook Page - A Book Readers World
GoodReads
Youtube- A Book Readers World
DISCLAIMER
Review Policy